Valley Grove Construction has been serving Montgomery, Chester, and Bucks County since 2009.
Valley Grove Construction works with our customers through every step of the construction process, from concept, to design, to construction. Our hands on approach from day one builds a strong relationship between our customers and the VGC team.
Phenomenal design work and impeccable construction are our corner stone principles. Our extreme attention to detail has given VGC an over decade's long track record of completing projects on time and on budget while exceeding expectations.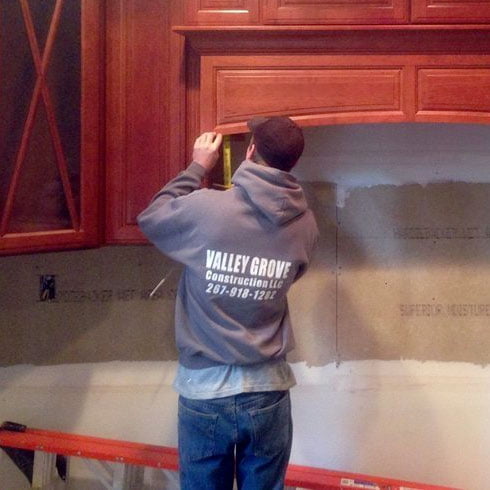 "
Quality construction that you don't find often. These guys are the real deal. Timely, professional, clean, and detail oriented. It was a pleasure working with Valley Grove Construction.
"
I would highly recommend Valley Grove Construction. I felt that Brian and his staff did a great job. Brian's estimate was very detailed and each part of the work to be performed was broken down into sections with the price. They arrived on time and the work was completed on schedule. They meticulously cleaned the area where the work was performed. They also repaired and painted the drywall around the inside of the basement windows. I will definitely have them come back for any projects we have in the future.
"
Brian and his crew did an amazing job on our deck! Great communication and super guy. Kept me appraised of any changes based on the weather, and they worked fast. All for a really great price. He'll definitely be my first call on any future projects! Thanks again.
"
Brian and his crew did an amazing job to our kitchen and other rooms around the house. Very professional, clean and affordable. Thanks!
"
Brian and Chris exceeded our expectations when they remodeled our kitchen and dining room. These guys are skilled professionals that pay close attention to detail while maintaining a clean work environment. Our project was completed within budget, and within the time line agreed to when we hired them. We look forward to trusting them again for our next project.

Two years later in July 2017, we had Brian and his crew back to remodel our master bathroom, and were just as delighted with their work as we were after out kitchen was remodeled.
"
Brian met with me and we went over the scope of the job and he then presented me with a detailed contract that reflected everything we discussed. They were always punctual and if they came across any issues, they were proactively communicated with me. I have dealt with a number of contractors personally, and with my work. I can honestly say Brian, and Valley Grove Construction is the best contractor I have hired. Everything with this project went like clockwork.
"
I can't say enough good things about Valley Grove Construction. We had a complicated kitchen renovation with a completely new floor plan, removal of walls, etc. and Brian made the entire process go as smooth as possible. The crew was top notch and went out of their way to minimize the day to day stress of home renovation. Valley Grove will for sure be the only call I make for our next project.